by Myanmarese.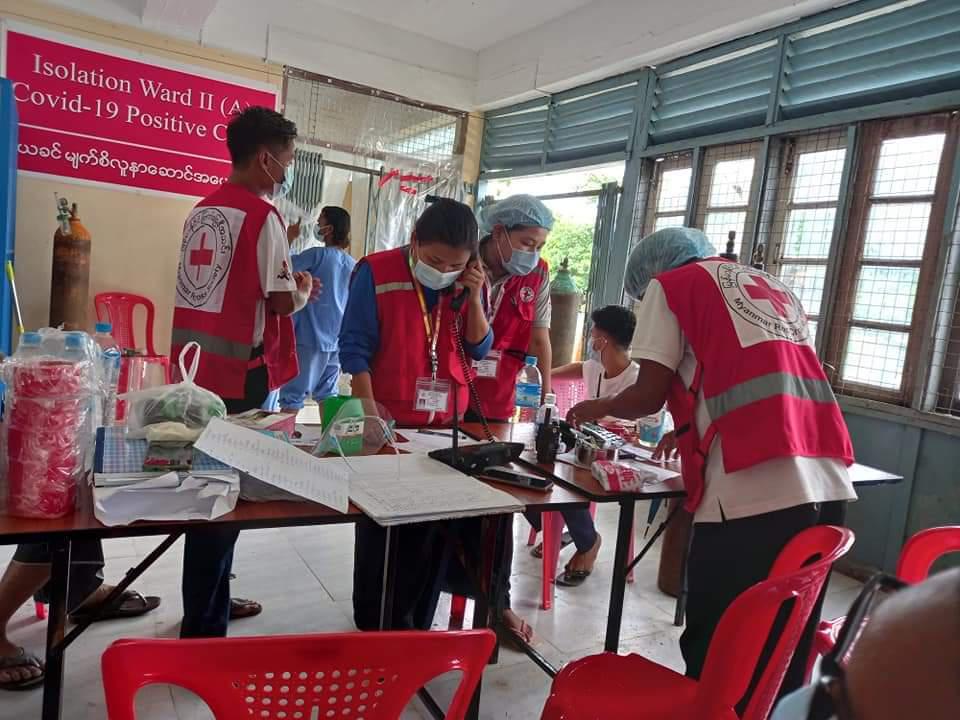 Khin Ohmar, a Burmese activist and the founder of Progressive Voice, a human rights organisation with links to grassroots communities in Myanmar writes in the New Humanitarian that the international community and NGOs must engage directly with the pro-democracy movement, its activists and ethnic civil society organisations to help the Myanmar people's overwhelming humanitarian crisis: Coup, Covid and Floods due to climate change.
There is no neutrality in engaging with the military junta who has seized power through brute force and recently cancelled last year's elections which saw Daw Aung San Suu Kyi's NLD party won by a landslide.
Under the military regime, Myanmar has quickly turned into the most dangerous country in the world for healthcare workers and journalists, who have continuously been persecuted and arrested.
The junta is using Covid as a weapon, denying medical treatment and oxygen as a form of collective punishment. It has also employed collective punishment by detaining and charging family members and friends of activists including babies, children and elderly people.
"Myanmar's humanitarian needs are overwhelming, but they cannot be met by engaging with the same perpetrators of the grave human rights abuses that relief aid intends to address. The humanitarian community prizes neutrality as one of its core principles; there is nothing neutral about engaging with the military junta.
Humanitarian access for international aid groups in Myanmar is dependent on "travel authorisations", overseen by the military. Access is frequently denied, and areas controlled by ethnic armed organisations are almost entirely blacklisted. In other words, aid is distributed in areas deemed worthy by the security forces of those claiming to represent the state – not those who are resisting it."
This was seen in last week's attempt by UN's High Commissioner for Refugees's aid convoys which could not deliver the humanitarian aid directly to the internally displaced civilians in Mindat, Chin State [https://www.irrawaddy.com/news/burma/displaced-myanmar-civilians-denied-un-aid.html]. Reports have also shown that the military is deploying its 4 cuts strategy to cut off civilian support for civilian fighters or ethnic armed organisations by burning villages, food supplies, looting, and causing mass displacement of villagers from ethnic areas and bamar heartlands. [ https://www.aljazeera.com/news/2021/7/5/the-people-hate-them-more-indiscriminate-attacks-on-civilians ]
Khin Ohmar writes that: "It is morally imperative that donors and humanitarian aid organisations stand with the people of Myanmar. A principled way to meet Myanmar's substantial humanitarian needs is by directly supporting community-based civil society organisations – especially those that have operated cross-border during the country's decades-long civil war against ethnic populations. Coronavirus support, in particular, should be coordinated with the COVID-19 task force recently formed by ethnic health organisations and Myanmar's government-in-waiting, the National Unity Government (NUG)." Vaccinations have already begun in ethnic areas by the NUG and Ethnic Armed Organisations, though how they have sourced their vaccines seems different. Nevertheless given that the NUG has formed a Covid Task Force with the renowned Mae Tao Clinic and with clinicians leading the vaccinations drive in those areas, has only accentuated the glaring fact that the military has catastrophically failed in handling the country's Covid outbreaks and that the NUG is the more adept authority in times of crisis.
Myanmar people, understandably, have a profound distrust for the junta. Any relief effort through the junta will be seen as collaborating with the very people who are brutally killing civilians and will be most likely rejected. Therefore it is vitally important that the humanitarian aid delivery is channelled through community civil society organisations and pro-democracy groups.
The Myanmar junta claims to be trying to manage the Covid outbreak in Myanmar yet keep political prisoners arbitrarily detained including foreign nationals Sean Turnell, an economist, and Danny Fenster, an American journalist behind bars, while also hunting doctors and healthcare workers, volunteers trying to help civilians get food and medicines. Their response has also been to build more crematoriums instead of stopping their human rights violations. Trying to help Myanmar people from abroad has also been difficult because of the junta closing off delivery of oxygen concentrators, medicines and money, sometimes seizing oxygen plants and cylinders.
Khin Ohmar: "Diplomatic and political pressure must be exerted on Myanmar's neighbours to allow for unrestricted cross-border humanitarian operations and to ensure that those fleeing Myanmar are not turned away.
Military rule is the root cause of Myanmar's human rights and humanitarian crises. Its permanent end, and the establishment of a federal democracy, can only be achieved by the people of Myanmar. International aid agencies can support our struggle by ensuring that the country's vast humanitarian needs are met in a principled way."
https://www.thenewhumanitarian.org/opinion/2021/7/28/theres-nothing-neutral-about-engaging-with-myanmars-military
We must learn from the results of cyclone Nargis that the military only reacts to save itself at the cost of hundreds of innocent lives. Myanmar people have shown extraordinary bravery and resilience to overthrow military rule and this could be their last fight; and it is a fight worth supporting.