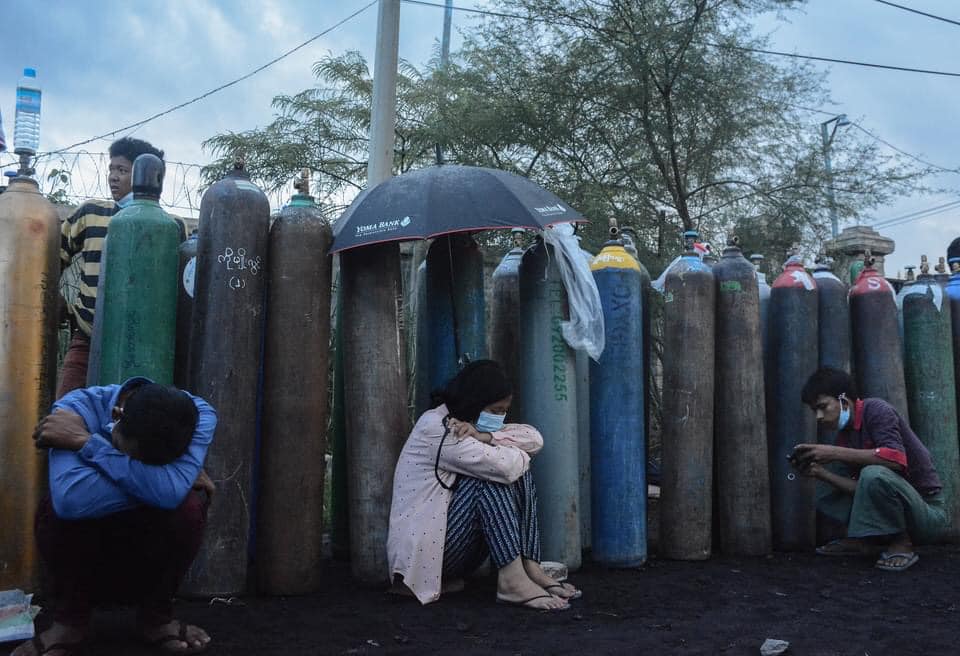 "An explosion of Covid cases, including the Delta variant, the collapse of Myanmar's health care system, and the deep mistrust of the people of Myanmar of anything connected to the military junta are a perfect storm of factors that could cause a significant loss of life in Myanmar without emergency assistance by the international community," Tom Andrews, the United Nations special rapporteur on human rights in Myanmar
"My wife died because of the coup and because the military is trying to destroy everything good for the people," said Mr. Thein Zaw, who is now sick with Covid himself. "Myanmar is a nation in which there are many ways to die."
People in Myanmar are facing an apocalyptic disaster from the brutal repression from coup leaders and their subordinates, and from an out of control Covid outbreak.
Photos on social media are showing queues of people desperately hoping to refill oxygen cannisters for their loved ones. Some people are dying at home. Charity organisations and volunteers are estimating around 500-600 deaths from Covid per day just in Yangon, Myanmar's largest city.
In the latest news, funeral services and volunteers are deciding whether to bury the corpses of Covid positive people together in mass graves as the death toll for Yangon reached over 1000 for the last 3 days. The junta has reported barely 100-200 deaths related to Covid per day on state media.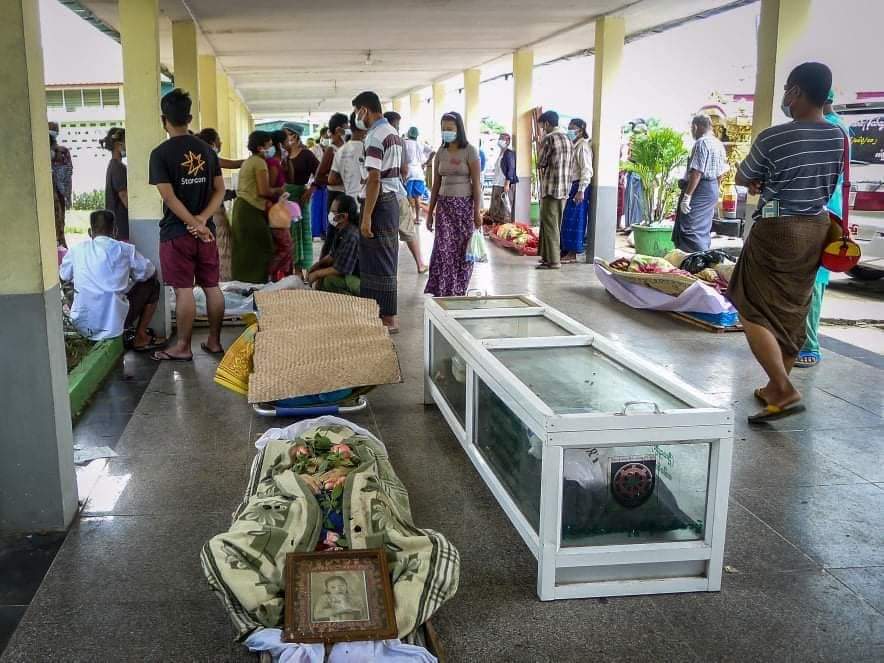 While countries like Brazil, India, Italy, UK, US, struggled with functioning healthcare systems during their share of Covid outbreaks, Myanmar's healthcare system has collapsed from thousands of doctors joining the Civil Disobedience Movement and subsequently from the junta's targeting of healthcare workers including civil society organisations, volunteers, doctors, nurses, paramedics. People also have a well-founded mistrust of the junta. Soldiers and police have been reported to storm into clinics and hospitals and arrest healthcare workers or patients. Hence civilians so far had reached out to private hospitals and clinics for healthcare, for those who can afford it.
Recently the junta ordered the cessation of sales of oxygen to private hospitals and charity organisations leading to a domino effect of deaths. However instead of the junta owning up to its mistakes, it predictably has denied any accusations of such crimes against humanity and instead turned to victim-blaming by accusing oxygen suppliers of exaggerating prices and forcing families to defy the army in order to treat sick relatives. The coup leader also has blamed independent media of spreading rumours (fake news) to harm the Tatmadaw.
Soldiers have also fired into crowds of people queuing to get oxygen in Yangon giving the excuse that people were breaking covid lockdown rules.
Doctors at private clinics received directives from the junta forbidding them from receiving oxygen supplies.
While stockpiling oxygen for its ranks, the army has offered useless or dangerous advice to the populace. Garlic and citrus fruits helps ward off Covid, state propaganda has suggested. Photos of groups of soldiers, SAC staff and police officers were shown on state media drinking ginger water from the same cup.
On Wednesday, a spokeswoman for the Ministry of Health and Sports advised people who want to monitor their blood oxygen levels to download an app on their iPhones. Few people in Myanmar, one of Asia's poorest countries, own iPhones. And the app she recommended contained potentially dangerous misinformation about acceptable blood oxygen levels.
Charity workers are harassed for supplying oxygen to civilians and are told to stop the supply or face arrest.
Prisons are also rapidly becoming hotspots for Covid outbreaks. Some National League for Democracy (NLD) politicians and Denny Fenster, the American Editor of Frontier Myanmar, arrested and in prison have developed Covid symptoms or have tested positive. Currently according to the Assistance Association for Political Prisoners (AAPP) 5281 people are in overcrowded, unsanitary prisons in Myanmar.
While Myanmar did very well under the civilian government in its response to the Covid pandemic, everything collapsed with the junta generals ignoring the pandemic, and arresting and killing healthcare workers and volunteers who were essential in the testing, outbreak control and vaccination programmes.
The ousted government in the Southeast Asian nation had acquired 3.5 million vaccines from India before the coup. The junta commandeered most of the shots, but ignored plans to prioritize vaccinations for the elderly. Some shots went to vaccinate soldiers, according to a doctor at a Yangon military hospital. In protest, many doctors refused to get a second dose from the regime.
The military's unwillingness to provide details about its vaccination program prompted Covax, the global vaccine-sharing program, to delay a shipment of 5.5 million doses in March, said Dr. Stephan Paul Jost, the World Health Organization's representative for Myanmar. No new shipment has been scheduled.
The situation is so dire in Kalay township, Chin state near the Indian border, that a pregnant woman with Covid-19 died last month because she could not get treatment, relatives said.
Bual Cin Par, 37, was struggling to breathe and about to deliver her baby when a soldier turned her away from the understaffed general hospital at gunpoint and threatened to shoot her if she didn't leave, said a family member who accompanied her. The mother of four was also refused care at the town's military hospital. She rented an oxygen tank but died shortly after returning home. Her baby also died.
And it isn't only Covid that is killing people in Myanmar. Many civilians are unable to access basic healthcare due to a combination of military occupation of hospitals and severe shortage of healthcare staff in hospitals. People are dying from cancer, diabetes, heart problems which normally can be treated with the right care. 
"The de facto authorities need to create an environment where people can work without fear and patients can get care without fear," Dr. Jost said. "It is creating the ultimate dilemma for health workers, whether to serve the country of the future or the patients of the present."
The Special Advisory Council for Myanmar (SAC-M), headed by Yanghee Lee, former UN special rapporteur on human rights in Myanmar, released a statement on the 16th of July. It stated that the Myanmar military junta is using Covid-19 as a weapon to further repress the Burmese people. It calls for international organisations to channel humanitarian assistance through ethnic administrations, civil society organisations and service providers who can reach civilians in remote areas as well as the bamar heartlands and cities.
Since the ASEAN summit, the bloc has failed to deliver any meaningful action to put pressure on the junta. Due to ongoing disagreement amongst the members it has also failed to put forward a delegated special envoy to Myanmar. With Covid outbreaks going on within ASEAN countries as well, the focus on Myanmar is even less so than a few months ago.
"The junta is weaponising COVID-19 for its own political gain by suffocating the democracy movement and seeking to gain the legitimacy and control it craves – and has so far been denied – by deliberately fuelling a humanitarian disaster and then co-opting the international response," said Yanghee Lee of SAC-M. "The generals are not partners for the delivery of aid. They are murderers who will be held to account for their crimes."
Reports around Myanmar say that people are turned away from hospitals because the hospital beds are full, they are understaffed and facilities have not been adequate to deal with the current covid crisis.
The junta and its pro-military proxies are also using Covid vaccines as part of their propaganda to have civilians submit to their authority.
One doctor working at a fever clinic in Yangon advised that now the best approach in the Covid outbreak is prevention of infection: social distancing, wearing a face mask properly, proper and frequent handwashing, and if possible, isolation of sick family members. But as people queue to receive oxygen for their loved ones because the junta abuses its power to deny people basic human rights i.e. right to healthcare, containing this deadly Covid wave in Myanmar can only be resolved by the intervention of international authorities. To contain and resolve the Covid -related humanitarian disaster is not only for the benefit of the Myanmar people but also for the world.
We have seen how an uncontrolled epidemic of covid in one country such as the UK (Alpha strain), India (Delta strain) and Brazil ( Gamma strain) has ramifications for everyone in the world. As wealthier countries ramp up vaccinating their people, there is a race with time to prevent the SARS-CoV virus from mutating into a deadlier form that may become resistant to current vaccines.
Sources
https://www.nytimes.com/2021/07/01/world/asia/covid-myanmar-coup.html
https://www.nytimes.com/2021/07/15/world/asia/myanmar-covid-oxygen.html
https://specialadvisorycouncil.org/wp-content/uploads/2021/07/SAC-M-PR-Covid-ENGLISH.pdf
https://www.irrawaddy.com/news/burma/yangons-major-cemeteries-report-unprecedented-influx-of-bodies-amid-covid-surge.html